No Cutting Lasik Technology
---
About The No Cutting Lasik (
Next Generation PRK

) Technology

When choosing a LASIK provider, everyone is looking for the same things: experience, standards of excellence, safety, advanced technology, and superior results. Patients visit Dr. Mazaheri for the remarkable care he provides. Dr. Mazaheri personally spends several hours with each patient, carefully planning individual treatments and ensuring all LASIK measurements are correct. The LASIK procedure at our center is performed with the patient's outmost safety and comfort in mind. Dr. Mazaheri believe that the HD Guided No-Cut LASIK (Advanced PRK) procedure is the future method for correcting nearsightedness, astigmatism, and farsightedness. He performs this procedure at our hospital grade Surgery center, conveniently located in the heart of Far North Dallas, TX serving patients throughout the DFW Metroplex, including Richardson, Dallas, Plano, Irving, Grapewine, Addison, and McKinney. Our center is one of the most technologically advanced vision centers in Dallas, TX, for Dallas Lasik. The entire No Cut Lasik procedure is nearly painless, quick and easy.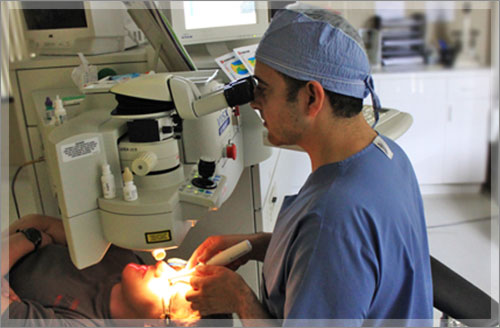 How?
Prior to surgery, eye drops are administered to numb the eye, and to ensure maximum comfort throughout your
Flapless
LASIK procedure. A device is then placed to prevent blinking during the surgery, and then a fine layer of corneal epithelium is removed using a special brush-like instrument. Dr Mazaheri then carefully uses an excimer laser to reshape the area according to the patient's individual vision correction needs. All in all, the entire surgery takes less than ten minutes but gives our patients a lifetime of better vision. After the surgery Dr. Mazaheri will place a temporary contact lens over the treated area to protect your corneas as the removed epithelium heals on its own. Throughout the process Dr. Mazaheri will explain each step, from start to finish, and will make you as comfortable as possible.
Benefits :
Fast results. Thanks to Dr. Mazaheri's exceptional training and skill, and the advanced technology involved with the No-Cutting Technique (Advanced PRK), a vast majority of the patients who receive this treatment at our Dallas Lasik Eye Center experience a quick recovery with a minimal down time. With this surgery, patients can potentially gain freedom from the need for eye glasses or contact lenses. At our Dallas LASIK Center, most patients achieve close to 20/20 or better vision.
Risks :
Since there is no flap, patients who undergo the No-Cut LASIK Surgery (Advanced PRK) in our Dallas LASIK Center can expect none of the risks that are associated with having a flap. However, as with any other surgery, there are risks involved in any LASIK procedure. As a result, Dr. Mazaheri personally monitors each of his surgery patients during numerous follow-up appointments to ensure these risks are minimized and are prevented from occurring. Also prior to the surgery his highly skilled surgical team, under his direct supervision, will use technologically advanced machinery to examine the patient's eyes and vision. These patients are then fully monitored and examined, once again, personally by Dr. Mazaheri.
Testimonials:
Click
here
to read what some of our patients have said about Dr. Mazaheri and the No-Cutting Technique.
---
As a premier ophthalmologist in the Dallas area, LASIK eye surgery specialist Dr. Michael Mazaheri boasts a record of success that continues to draw new clientele from throughout the Dallas Fort Worth Metroplex. Dr. Mazaheri is aware that for most patients, choosing LASIK eye surgery may be one of the most important decisions they'll ever make. Because of this fact, Dr. Mazaheri spends several hours individually with each patient in order to assure accurate LASIK measurements.