About Dr. Michael Mazaheri – Dallas Lasik Surgeon
---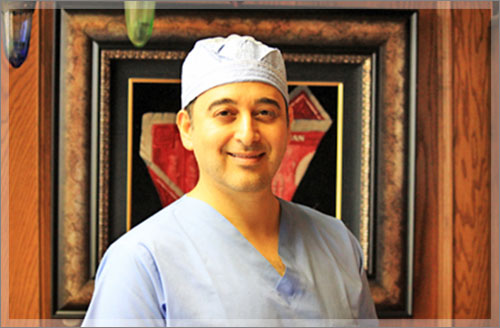 For nearly two decades, Dr. Michael Mazaheri has been committed to delivering exceptional eye care to patients within the DFW Metroplex. His commitment to high-quality care begins with superior training and continues with customized laser vision correction utilizing the most advanced technologies, including Wavefront guided LASIK. Dr. Mazaheri is a true pioneer in the LASIK field, having researched and developed a patent-pending technique in no-cut/no-flap LASIK surgery. Patients from the Dallas/Fort Worth area, and internationally, have come to see Dr. Mazaheri for personalized precision eye correction. Lately, several LASIK centers have begun to adhere to the "conveyor belt†theory of patient care. In many practices, the patient only sees their Doctor while he is performing the surgery and never again. To combat this alarming trend, and to ensure true Doctor/Patient care, Dr. Mazaheri is genuinely committed to spending several hours customizing a specific surgical correction based on each individual patient's specific needs.
---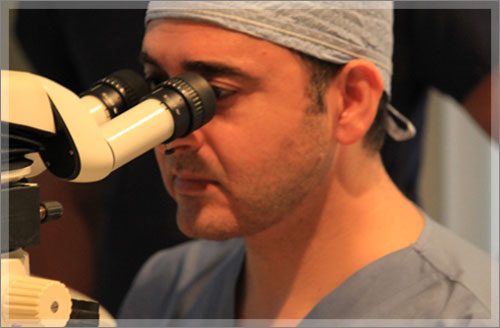 As a person, everything about you is unique and specific to only you, and your eyes should be treated with respect to that knowledge. When it comes to LASIK, don't settle for a one-size-fits-all eye surgeon. As Dallas' premier ophthalmic surgeon, Dr. Mazaheri has spent 14 years perfecting his technique in Advanced PRK LASIK and furthering the industry in post-operative patient care. After earning his Bachelors of Science degree in Chemistry from George Mason University, Dr. Mazaheri received his medical degree from Eastern Virginia Medical School. Following an internship at Georgetown Medical Center, Dr. Mazaheri attended the State University of New York for his surgical training, followed by further training at Johns Hopkins; one of the leading eye institutes in the world for LASIK. For nearly two decades, Dr. Mazaheri has dedicated himself to the highest standards of excellence, proudly serving residents of Allen, Arlington, Bedford, Carrollton, Coppell, Dallas, Euless, Fort Worth, Frisco, Garland, Hurst, Irving, Las Colinas, Mansfield, McKinney, Plano, Richardson, Rowlett, and all surrounding Texas communities.
---
  A Personal Note from Dr. Mazaheri on His Own Flapless LASIK Eye Surgery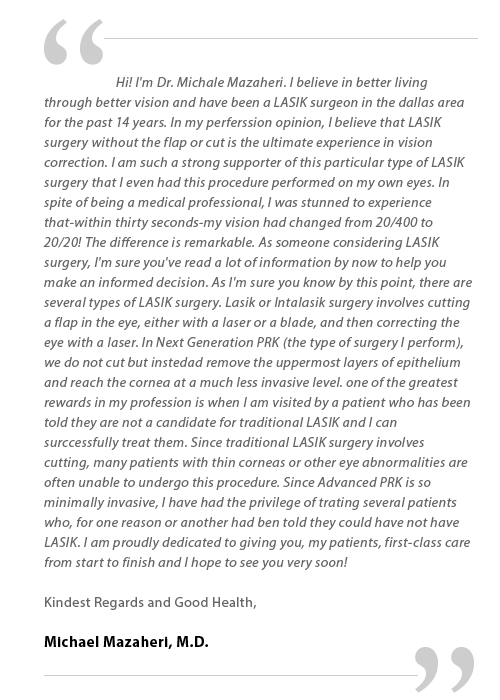 Quick facts about Dr. Mazaheri
With close to 15 years of experience in the FDA approved No-Cutting flapless LASIK technique (Advanced PRK), Dr. Mazaheri is one of the most experienced flapless LASIK surgeons in the nation. He has refined this procedure to a new level because of his post-op protocol. Dr. Mazaheri strives for nothing less than perfection; even other eye surgeons, who perform LASIK/PRK, have sent their family members and difficult patients to be seen by him. His research on corneal healing started in 1992, when he was a third year medical student (years before LASIK approval). Dr. M had extra research experience in the labratory before these procedures were approved. This propelled him to be one of the most experienced surgeons in the world, into the next generation of LASIK due to the information and confidence in eyes healing power he gained in those previous years in his medical research while still in medical school. The next generation Advanced PRK has its roots in epithilium healing where he authored a paper years before PRK was even approved. After beginning college at a very early age, Dr. Mazaheri spent the next 13 years of his life studying to become an eye surgeon. He earned his Bachelors of Arts in Chemistry from George Mason University and a Medical Degree from East Virginia Medical School in 1993. Following an internship at Georgetown Medical Center, Dr. Mazaheri attended the State University of New York for his eye surgery training and then headed to Johns Hopkins, one of the leading eye institutes in the world. In the Initial days of LASIK, in 1997, Dr. Mazaheri attended the first training course offered at John Hopkins. Since then, with close to a decade and a half of experience, he has been considered a pioneer in Flapless LASIK surgery, specially in hyperopic patients. Patients have travelled from all over the country to visit Dr. Mazaheri because he is one of the few surgeons, nationally, offering only Flapless (Advanced PRK.) Some of Dr. Mazaheri's patients include congressmen, councilmen, mayors, Airline Pilots and family members of other LASIK surgeons. Dr. Mazaheri has also developed a special protocol that he shares with the other surgeons. Dr. Mazaheri's training at John Hopkins Medical Center was with eminent physician Dr. Steven Slade, the pioneer in Refractive Surgery. Dr. Slade's accomplishments have been chronicled numerous times in consumer media, including features on CBS News, ABC News, NBC News, PBS, The New York Times, The Wall Street Journal, and Newsweek. In 1998 Dr. Mazaheri established The M Lasik Center in Dallas, TX and is now a leading DFW LASIK eye surgeon. His philosophy is that patients deserve the highest quality of care once they step into his office. He utilizes his superior training and experience to provide LASIK eye surgery to his patients with a warm confidence, making the surgery feel like a dream come true. The major reason that Dr. Mazaheri and The M Lasik Center stand out among others is due to his personal commitment to patients, his tireless endeavor in researching and study in new techniques in Lasik surgery, post-surgery medical care and his patent pending technique.
---
As a premier ophthalmologist in the Dallas area, LASIK eye surgery specialist Dr. Michael Mazaheri boasts a record of success that continues to draw new clientele from throughout the Dallas Fort Worth Metroplex. Dr. Mazaheri is aware that for most patients, choosing LASIK eye surgery may be one of the most important decisions they'll ever make. Because of this fact, Dr. Mazaheri spends several hours individually with each patient in order to assure accurate LASIK measurements.