No Cutting Lasik Technology
---
About The No Cutting Lasik (
Next Generation PRK

) Technology

LASIK trained at Johns Hopkins, known to be one of the best centers in the world, Dr. M did regular LASIK until around 2009 (for 12 years ), at the time it was the most technologically advanced method for correcting nearsightedness, astigmatism, and farsightedness according to many, however an article by Johns Hopkins discussing that the future would be the surface laser version sparked an old interest in Dr. M. As a young medical student, he did his eye surgery research at Medical school of Virginia in Norfolk on the surface healing of the eye; this was the beginning of an amazing evolution of LASIK for him. DR. M always liked to do away with flap, but had to spend years putting things together before jumping to the next generation of PRK or flapless LASIK.

Dr. M evolved his procedures to Flapless LASIK, because of his obsession to reduce the risks during the cutting or making of the flap. Many patients will call it the most amazing display of skill and science in their lifetime, as the procedure happened so fast and it's a massive vision improvement for many. After 20 years of obsession with the procedure others surgeons are amazed too, another eye surgeon friend that observed Dr. M and the instant vision improvement, was so impressed that he told Dr. M please let's find a date that you can do my Flapless LASIK, because you have come such a long way since my wife had laser surgery somewhere else.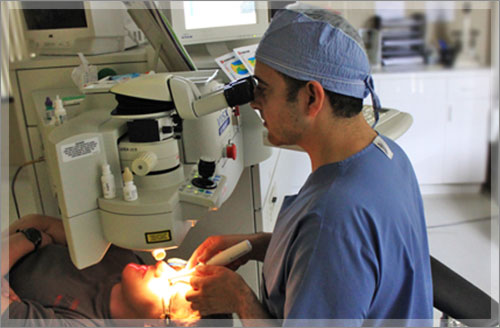 Another very experienced eye surgeon, when he could not do LASIK on a patient due to technical difficulty in cutting, watched in amazement as Dr. M did the procedure on the patient for him at the center with no problems. A LASIK surgeon that has been doing LASIK for over a decade chose to bring a family member to Dr. M's Center, because of the Flapless LASIK reduced risks, other experienced Surgeons have brought their patients to Dr. M's center for their procedures.
Flapless LASIK, years ago as base PRK is what was approved by FDA, LASIK was an off Label use for many years. Flapless LASIK is what Navy seals want when they come to our facility also, military staff and pilots almost always want the no flap version.
The story of Flapless LASIK evolution is over many years , Dr. M at age 24 (in 1991) , started a major research and a paper that followed later while still a 3rd year medical student on corneal epithelium removal and healing . This paved the way for the future in his training as an eye surgeon on PRK in 1996 and Lasik in 1997 at Johns Hopkins to do away with flap on all cases. His early research on epithelium healing was only a magical piece of luck to help Dr. M realize the M Lasik Patent and the Flapless LASIK into this level.
After filing his second patent, "the M Lasik ", he evolved the procedures and moved on to the Flapless LASIK version on all patients (which is really the next generation of PRK). This Flapless LASIK was the brain child of his research at age 24, This bold claim that his center has not done a single flap since 2009 is the first of its kind in USA for a major refractive center. As far as the date of this writing 2017, we have not seen another center that states they completely transitioned to Flapless LASIK and that they only perform this one version.
Flapless LASIK was the term in 2008 that DR. M chose for this procedure. Dr. M is one of the most experienced surgeons in the world on Flapless LASIK, because this is all he has been doing as a surgical career.
It's a simple rule, when you concentrate on one thing all your life; you tend to find many little secrets and skills over time that will distinguish you in your trade.
Dr. M will not do the second eye in the same setting unless the patients requests Dr. M to do the second eye!
Dr. M had the flapless performed on his eyes and from there he was able to realize the instant vision possibility and he now he makes sure there is an instant vision improvement on selected patients ( most are qualified) before he does the second eye! THIS HAS NEVER BEEN OFFERED IN THIS FASHION AS FAR AS WE KNOW AND CAN ONLY BE DONE ON FLAPLESS VERSION)
The no cut or Flapless LASIK version is a dream come true for DR. M, it has Zero risk associated with any cuts or flaps. It leaves the cornea thicker compared to the Traditional Lasik (Intra Lasik), it's been the best forward step in laser eye surgery in his opinion. Of course no surgery is all risk free, after the surgery close observation is done to reduce those as much as possible. Dr. M has 2 patents and his 3rd patent will emphasis on his Depth ablation treatment roadmap. He believes this will eventually help steer many other LASIK surgeons to transition as well. Dr. Mazaheri had the procedure on his own eyes in 2009, after many years of performing laser eye surgery; he must have liked the results he was seeing with his patients.
Testimonials:
Click here to read what some of our patients have said about Dr. Mazaheri and the No-Cutting Technique.
---
As a premier ophthalmologist in the Dallas area, LASIK eye surgery specialist Dr. Michael Mazaheri boasts a record of success that continues to draw new clientele from throughout the Dallas Fort Worth Metroplex. Dr. Mazaheri is aware that for most patients, choosing LASIK eye surgery may be one of the most important decisions they'll ever make. Because of this fact, Dr. Mazaheri spends several hours individually with each patient in order to assure accurate LASIK measurements.